Let's Go Lobstering!
Check out the video on West Wind Lobster Tours by the Maine Office of Tourism!

To make a reservation, call 207-939-5481 or email us at westwindlobstertours@gmail.com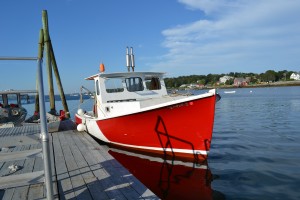 Join us on gorgeous Casco Bay for a Lobster Harvesting Tour you won't forget! During the first part of the two hour tour, Captain Jay McGowen will explain the history of lobstering as he navigates toward his traps. Then he will demonstrate how a trap is lifted from the ocean floor and opened to collect the lobsters inside. The basic anatomy of the lobster is next, along with how the trap works. You'll be able to get a close look at the sea life that comes up in the trap, which may include sea urchins, starfish, and crabs.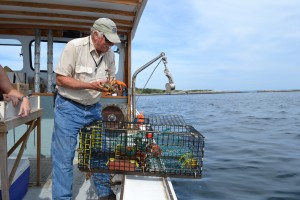 Once the traps have been pulled, we'll change gears and look for seals. Often we find them basking in the sun on some ledges off of a larger island. We can get pretty close, so you'll be able to take great pictures!
While the Let's Go Lobstering Tour is the tour we run most often, there are several other options. Sightseeing, Sunset Cruises, trips to Admiral Peary's Eagle Island, picnicking tours to various islands in Casco Bay, and charters for the Lobster Boat Races are just some of the options. Private charters are available as well.
The GPS address is 1945 Harpswell Islands Road, Bailey Island, Maine 04003
From Route 1 take the Cook's Corner exit to Route 24. Follow Route 24 for about 13 miles until you arrive at the Cribstone Bridge. At the end of the Cribstone Bridge is Morse's Cribstone Grill. Please park in the area at the back of the restaurant, toward the Bailey Island Motel, so as not to interfere with the lunch crowd. Captain Jay will meet you on the dock–the lobsterboat is red and he will be wearing a tan shirt. Sometimes Captain Jay is unreachable when he is preparing the boat–please call 321-213-1146 with concerns, if you don't reach him, call or text 207-939-5481.